Welcome to Year 3's Class Page
Class Teacher - Miss Hirst
Click here to see the work we will be doing this term.
Walk to Silkstone Common
Wow! A huge well done to everybody that came on our walk to Silkstone Common. It was a gorgeous sunny day and we had a fantastic trip out. We walked all the way along the Wagon Way to Silkstone and had a little rest at the Potting Shed. We then went to meet Reverend Maureen at All Saints and St James church in Silkstone. We learnt so much about all the different things you find in a Church. We were also so lucky as we were able to see some of the memorials for the Huskar Pit disaster as well as the beautiful stained glass window. We then walked all the way to Silkstone Common Primary School where we had our lunch and then onto Nabbs Wood to see the day hole where the 26 unfortunate children died in the Huskar Pit disaster. My legs were certainly aching after all that, I hope everyone had as much fun as I did. A super trip!
Ukulele Concert
Wow, what a brilliant ukulele concert we had! We enjoyed showing off what we have learnt over the year with Mrs Jones and hope you enjoyed it too!
Jam Jar Tealights!
We have had such fun making our jam jar tealights. Thank you for all of your donations! Please come and support us at the Summer Gala today 3:00-5:30pm. All proceeds go towards our school fund. Thank you!
Bring a Bottle - Non Uniform Day
A HUGE thank you to all that brought in a bottle for our Summer gala. You all look fantastic in your brightly coloured non uniform! Remember the Summer gala is on Saturday 7th July.
Miraculum Choir
This week we have some very special visitors in school all the way from Hungary. We have the pleasure of hosting the Miraculum Girls Choir for a few days of their UK Tour. How very lucky! Year 3 had a fantastic workshop where we learnt some new songs!
MAD SCIENCE
Today, we had a visit from Mad Science. We have had a fantastic science filled day where we have learnt how rockets get up into space as well as learning lots about light. How fascinating is it to know that all the colours of the rainbow make us see white? Thank you to Neutron Naomi who showed us lots of cool science experiments!
National Coal Mining Museum
We had such a fantastic day at the National Coal Mining Museum. We learnt so much about what mining was like right from 1820 to 1990. We met a real miner who gave s an underground tour! We loved learning about what life was like in the past, some of us even had a go at dressing up like a miner!
What Super orienteering at Cannon Hall this morning. We had some speedy teams in our class. Fingers crossed we get some of us through to the next round.
Bread Making
We have had such a wonderful treat this week! As we have been learning about France and have been learning some words and phrases in our French lessons, we decided to have a look at some traditional French food and what better place to start than by learning about the bread! We tasted brioche, a baguette and croissants. We even had a go at making our own croissants which we compared to the shop bought ones - ours were so much better! We then had a go at rolling and shaping our own bread loaves. We made such fancy designs: rolls, 3 strand plaits and some of us even had a go at 4 strand plaits! Special thanks to Ian the baker. Yum yum!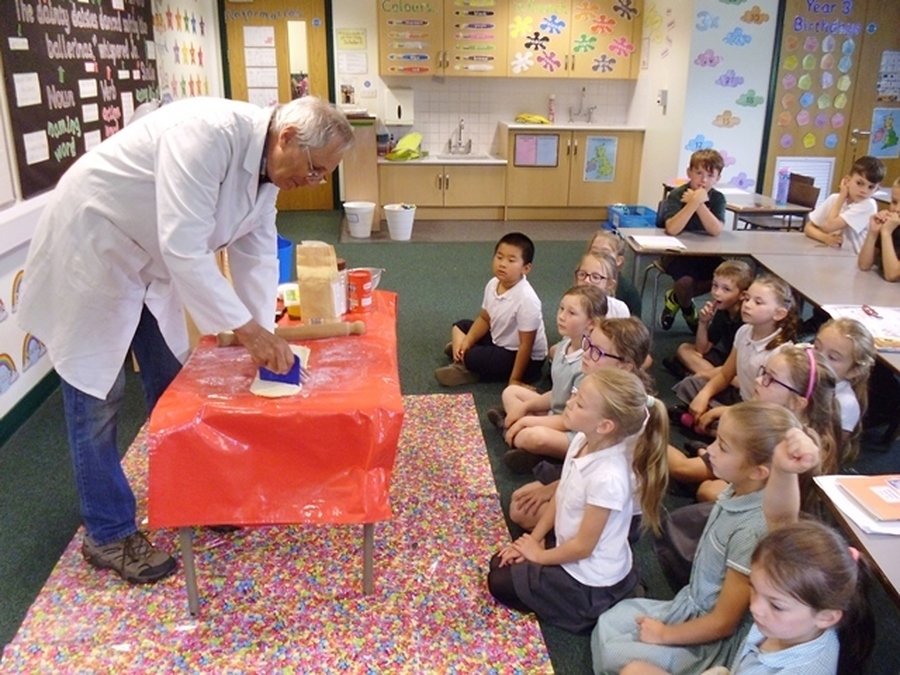 Bring Your Wheels!
WOW! What an absolutely super afternoon we have had out and about on our wheels! We have been so inspired by the Tour De Yorkshire and we have had such fun this afternoon. We have ridden around a course, learnt how to mount and dismount in different ways as well as competing in a slow race! Thank you Mrs Wolff for showing us all of your amazing bikes! Well done everyone!
Roman Mosaic Tiles
We have had so much fun learning about the Romans! They were so clever! They made special mosaic patterns on the floor of their homes. We created some of our own! What fantastic symmetrical patterns you all created! Let's just say that doing a mosaic pattern on entire floor would not have been a quick job! Phew!
Bakeathon!
Wow! Look at all of our wonderful buns and cakes! They all looked SO yummy!
Book Buddies
Today we paired up with Year 6 to read to a 'buddy'. We really enjoyed reading to the older children! Please look on Year 6's class page to see more photographs of us sharing our reading!
5 Fabulous Reasons to Read
WOW, wow, wow! I have been so impressed with all of your AMAZING posters that you made for your homework this week! We all really enjoyed sharing our '5 Fabulous Reasons to Read', some of my favourites were 'It relaxes me before bed', 'You can share it with friends and family' and 'You can get lost in a book' - I definitely agree with this one!
Roman Visitor
Wow! What a wonderful day we have had with our Roman visitor. We learnt all about how to become a Roman by: marching in a Roman formation, fighting with a sword, making a kit ready to travel away from home, learning how to read and write Roman numerals, dressing as a Roman and much, much more!
Jenny from the History Van was very impressed with how well everybody behaved and how keen they all were to learn lots of new things - well done Year 3!
Pancakes!
We all really enjoyed our pancakes to celebrate Shrove Tuesday that is in the half term holidays (13th February). Thank you for helping us to raise funds for our school.
What a wonderful Multicultural Day we have had! We learnt so much about Italy! We even managed to try some Mediterranean bread and oils, tiramisu, and mozzarella cheese! We loved celebrating with the rest of the school at the end of the day and we learnt about other cultures too!
Christmas Party
We all had so much fun during our Christmas party and everybody looked fantastic in their party clothes! We played lots of games but I think our favourite was... "Don't Eat Rudolph's Nose!". We even had a special visit from Santa in our classroom but he couldn't stay too long as he is very busy at this time of year! We also had a visit from an Elf who looked scarily like Mr Grist... how strange!!!!
A HUGE Thank You!!
Wow! Thank you so very much Year 3 for your donations towards our 'Candycane Heart' project for the upcoming Christmas Fayre. Mrs Coates, Mrs Wolff and I are absolutely delighted with all of your contributions. We think they will look fantastic once you all add some sprinkles and decoration to them, ready to sell on a stall at the Christmas Fayre on Friday. Come and buy our yummy treats! Thank you again, you are so kind and generous.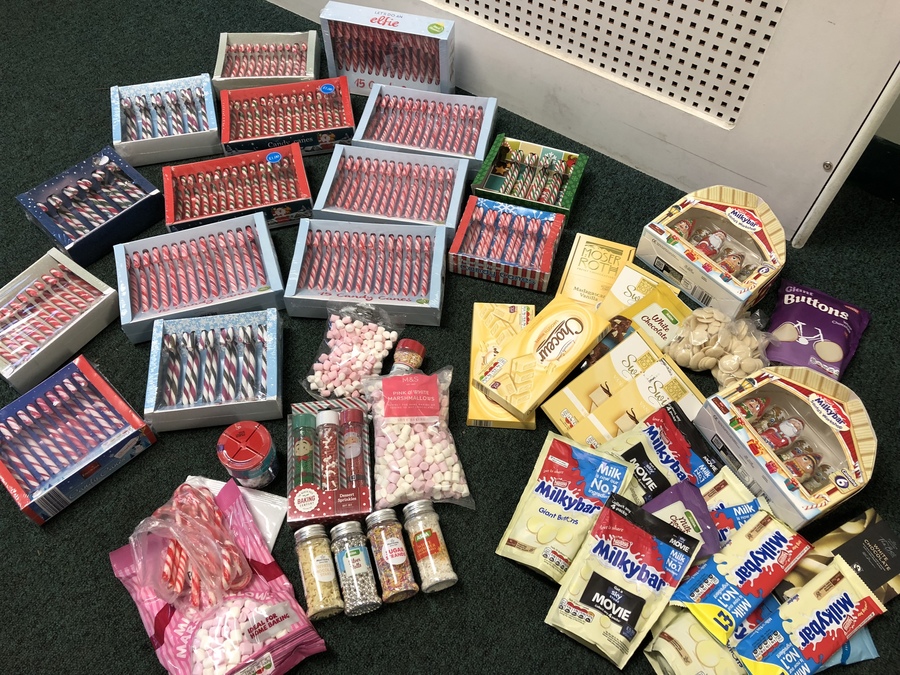 Children in Need Ramble
Year 3 has such fun on our afternoons ramble for Children in Need. We loved walking together and whilst on our ramble we collected lots of natural materials. From there we worked in teams to create some fantastic pieces of artwork! Well done everybody and thank you to all that donated.
Chicken Pie Making!
We had so much fun making chicken pies! Look at how delicious they look! I bet they were yummy, I know mine was!
*more photos to follow*
MAGNA
Wow! What a fantastic day we have had a Magna! We were able to do lots of exploring around the museum where we were able to find out so much about our Earth. We loved investigating with all of the hands on equipment in the Earth, Air, Fire and Water Pavilions. We particularly enjoyed exploring the water pavilion where we were able to make waves (and plenty or splashes!). We had fun during the volcano workshop where we made our own volcano... that erupted 3 times! What a brilliant day, well done year 3!
Tennis
This afternoon we had the opportunity to work with a tennis coach from Barnsley Tennis Club. We learnt so many skills such as serving, returning and some of us even managed to have a rally with the coach! How lucky are we?