Achievements
We are very proud of our many outstanding achievements in both academic and extra curricular activities. Below are details of some of our recent achievements:

Academic Achievements
Comments made by the Director of Childrens' Services following her visit to school in November 2013.
Evidence observed include:
A detailed knowledge of children's individual learning needs that is reflected in teachers' planning.

Personalised approaches to learning that take advantage of a very good range of resources which are used to good effect.

An absolute commitment to ensuring that children thrive in an environment where they feel safe and empowered to learn.

Vibrant displays that reflect a rich and varied curriculum through which are threaded opportunities for skill development in literacy, numeracy and ICT.

Pupils' pride in their work and their ability to take responsibility for basics in their learning. This is demonstrated by their attention to presentation, by the use of dictionaries / thesaurus to extend their vocabulary and the accuracy with which they use equipment in maths.

The consistency with which adults from all classes apply agreed procedures for learning and promote an exciting learning environment.

Pupils' confidence to talk about their work and the enthusiasm with which they talk to visitors about what they are learning.

A comprehensive package of guidance and ideas for parents and carers to enable them to support their child with their learning.

A relentless whole-school approach, led by the headteacher, that enables children to make excellent progress irrespective of their starting points. The highly inclusive learning community ensures that inequalities are eroded and children are empowered to achieve their best.

The school is a beacon of excellence. Other schools would benefit from observing the outstanding practice that allows pupils to make great strides over time in both their personal and academic development.
Recommendations/Summary:
The headteacher is acting as a consultant headteacher to support other schools within the LA.

The exceptional qualities of provision and leadership demonstrated at Barugh Green should be shared more widely to improve practice and outcomes more widely across the borough.
2017

2018

EYFS Good Level of Development

70%

73%

Year 1 Phonics

85%

85%

Key Stage 1

Expected standard or above in Reading, Writing, Maths

79%

70%

Expected standard or above in Reading

83%

78%

Expected standard or above in Writing

85%

76%

Expected standard or above in Maths

83%

76%

Expected standard or above in Science

87%

76%

Reading, Writing and Maths combined are above the national figure

Key Stage 2

Expected standard or above in Reading, Writing, Maths

82%

89%

Expected standard or above in Reading

84%

94%

Expected standard or above in Writing

96%

96%

Expected standard or above in Maths

93%

98%

Expected standard or above in Grammar, Punctuation and Spelling

93%

98%

Reading, Writing and Maths combined are above the national figure

Attainment and Progress in all 3 subjects (RWM) is above the national figure

We are NOT a coasting school
To access the School Performance Tables, published by the Secretary of State, please click here
Extra Curricular Achievements

November 2018

The whole school made a poppy to form our display to commemorate 100 years since the end of WWI.

June 2018

The Miraculum Choir visited our school. They held workshops for all the children and performed in the evening.

June 2018

Whole school Science day run by National Power.

January 2018

We held a whole school Multicultural Week.

June 2017

Year 4 participated in the Darton Dance Show along with other primary schools and pupils from Darton College.

June 2017

X-Factor! Lots of our children in KS2 formed groups and bands to perform at Darton College's X-Factor. They all had a fantastic time :-)

April 2017

Y2 took part in an Opera project. They worked hard between September and April to practise and 'perfect' and then performed in April.

February 2017

Family roller skating event organised by Mrs Wolff.

December 2016

We participated in Darton College's Winter Showcase, a celebration of music and the arts.

July 2016

Family bike ride event organised by Mrs Wolff.

June 2016

We attended the Primary Vocal Festival along with other primary schools in our area.

17.02.2016

We have been invited to work with our local music hub and be involved in a project that will involve some of our children, exploring beyond Western Classical Music, including using technology eg iPads.

The project would culminate in a performance at the Music for Youth National Festival in Birmingham in July 2016. Barnsley music hub is currently working to secure this project. We will update you with further details when they become available.

16.07.2015

Frankie Oldham (Year 5) plays in the Barnsley Intermediate Band and he has been chosen to receive the 'Paul Sykes Music Award'. It has been awarded to Frankie in memory of Paul and Jack Sykes from Penistone. He has received this award in recognition of outstanding contribution in both the Barnsley Junior Band and Barnsley Intermediate Band. Frankie has also been asked to join the Town Concert Band. Well done, Frankie...superb recognition of your musical ability!

20.04.2015

Congratulations to Louis Daykin who achieved black belt in karate at the weekend. Well done Louis!

11.07.2014

We are the National Rounders Champions for the second year running! Congratulations to our school rounders team, they are the National Champions, after winning the finals in Corby, having played against teams from all over the country.

10.02.2014

Congratulations to Leah Burkinshaw who achieved black belt in karate at the weekend. Leah has been British Champion in the past and continues to train hard with her Karate club. Well done Leah!

Y5 and Y6 Rounders

We are now the National Rounders Champions! We had to compete in heats in Barnsley and then South Yorkshire to qualify. We were successful in these heats and so had to travel to Stafford to compete against schools from all around the country. We were the winners! Well done everyone!

Summer Reading Challenge

Well done to all the children who took part in our Summer Reading challenge. Children were asked to read regularly during the holidays. Mr Gilmore gave out bronze, silver and gold reading awards to children in KS1 and KS2. What a brilliant start to our new school year!

iPad workshops

Year 2 and Year 4 have had the chance to work with an iPad artist this term. Miss Broomhead has worked with Wakefield Trinity Wildcats to organise for their artist in residency to come to school to create iPad art with the children as part of a Lottery funded programme. The completed work will form part of a 60ft mural that will contain work from all schools that participated.

Qdos Dance

Both of our Year 5 classes are currently working with the Qdos Dance Organisation to create a dance that will be preformed at Cannon Hall. Miss Madeley and Miss Battye have organised for Qdos to come and work with their children.
Awards that the school has received

ICT Mark

This is awarded for excellent and innovative ICT practice. It has to be renewed every two years and we have received it for the third time this year.

Arts Mark (Gold)

This is awarded for outstanding performance across all Arts in school ( Art, drama, music and performance) We received Artsmark Gold in 2009 and have continued to build on our 'Arts' achievements since.

Healthy Schools

This is awarded when schools show a dedicated drive towards achieving 'healthy schools' and equipping children with the knowledge and skills to make 'healthy' lifestyle choices.

Active Mark Gold

This is awarded for achievements in physical education and sport in school where schools demonstrate a commitment to a healthy and active lifestyle.

Ofsted Outstanding

The schools previous three Ofsted inspections have all been judged as outstanding.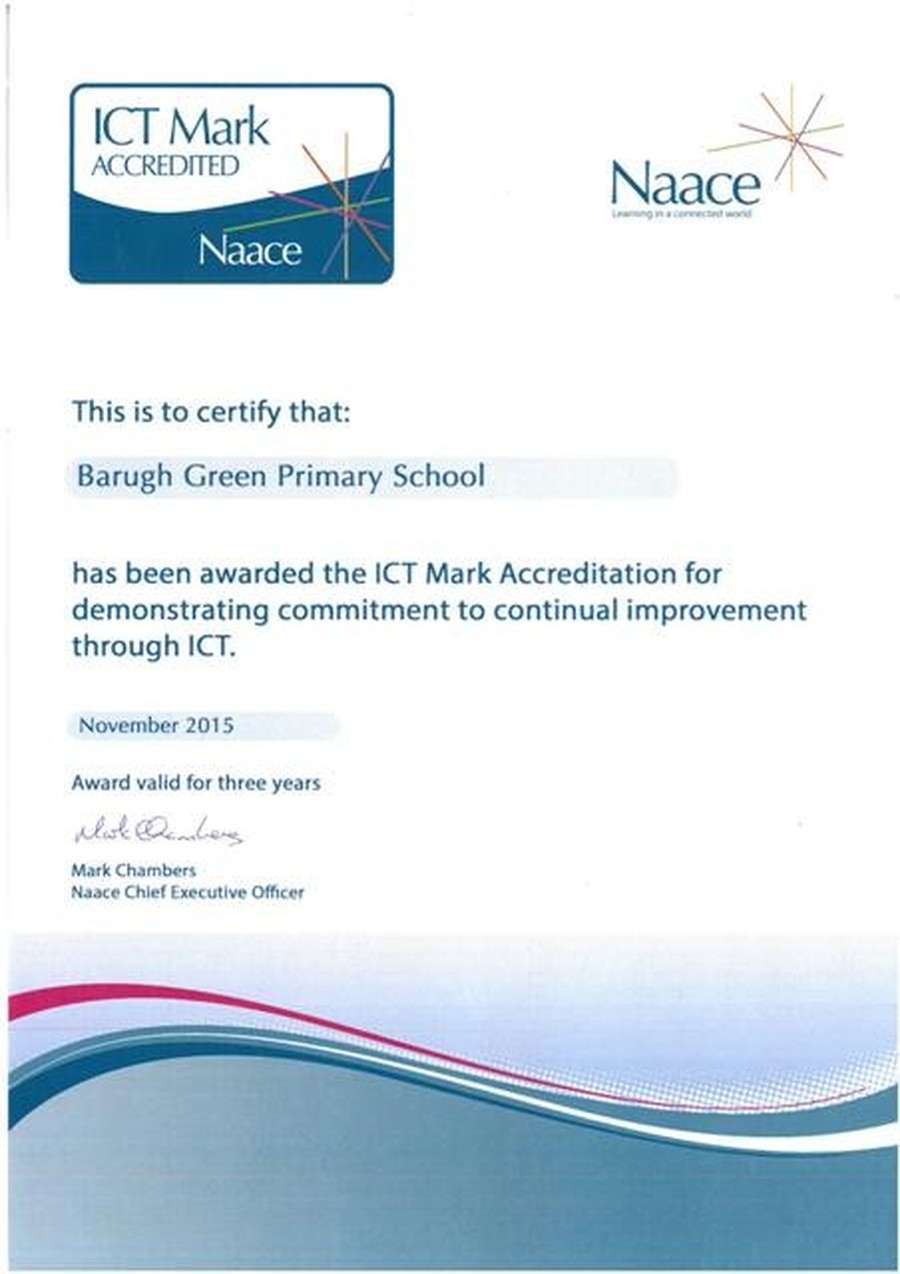 Certificate of Excellence
We received a 'Certificate of Excellence' as the school has been given a 5 star rating by the School Guide which judges all schools on a variety of criteria
Artsmark Gold
We are thrilled to have been awarded Artsmark Gold by Trinity College, London, for the third consecutive time. This is a prestigious award which acknowledges our high quality provision in music, art/design, dance and drama. We believe that the Arts are a superb vehicle to deliver not only the spiritual, moral and social dimensions of the curriculum but also expand the cultural awareness of all our pupils. We have also enabled 278 pupils to achieve their Discover Arts Award through activities related to the Tour De France, this being the first step in a national Arts Council award. Schools in the Barnsley area and beyond will continue to consult with us regarding the Arts.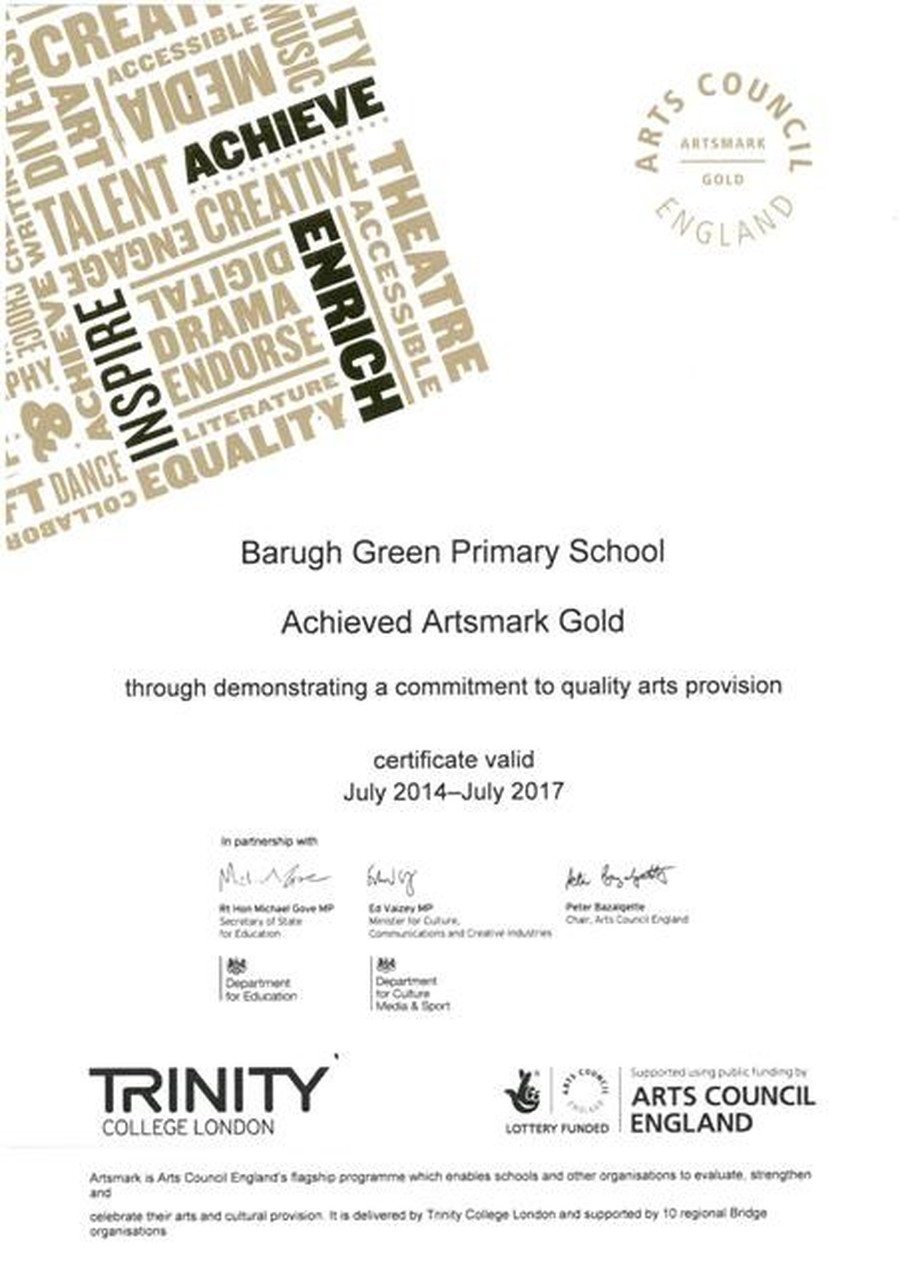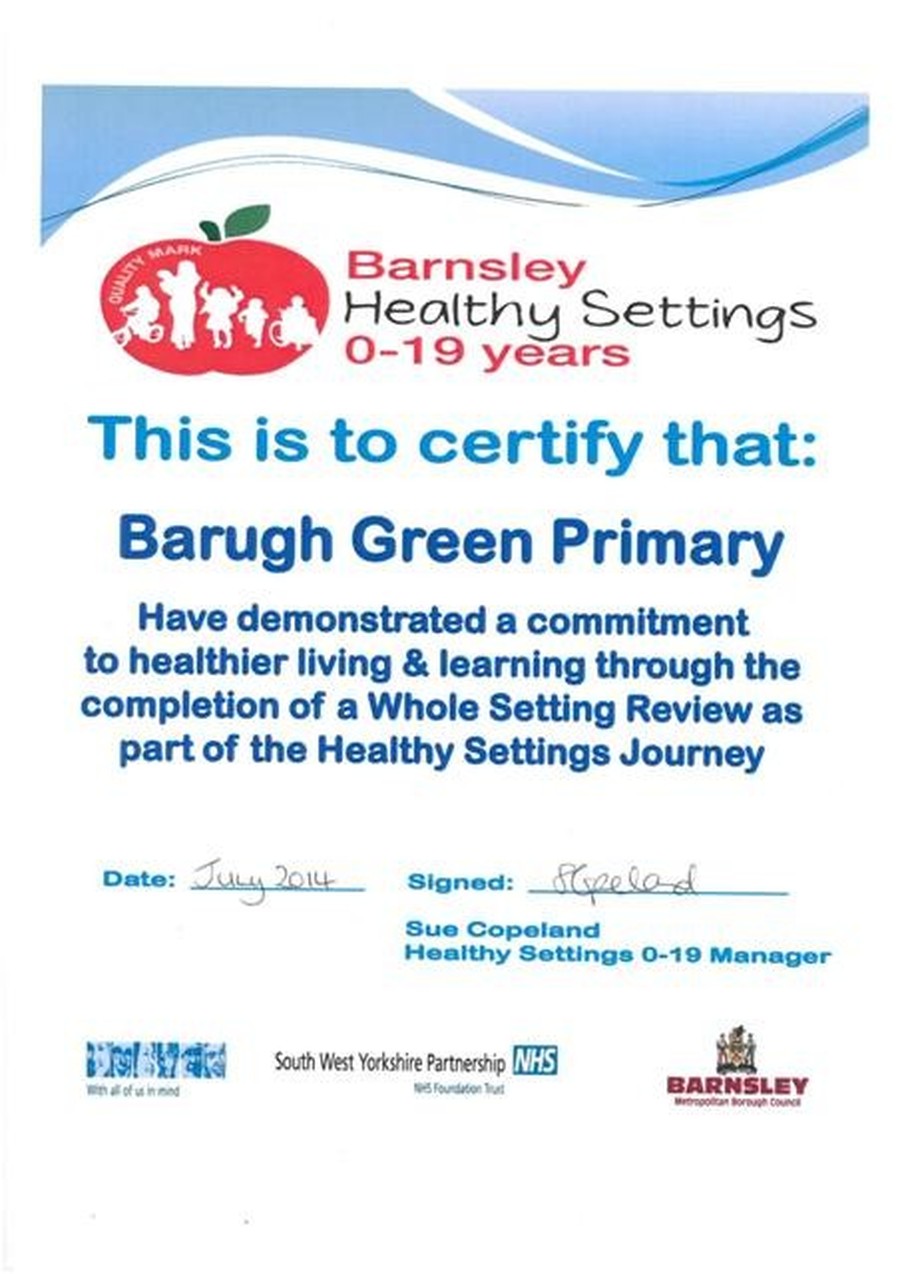 Quality Mark with Distinction for Physical Education & Sport
Lead School Status in the Network of Excellence for the Teaching of Computer Science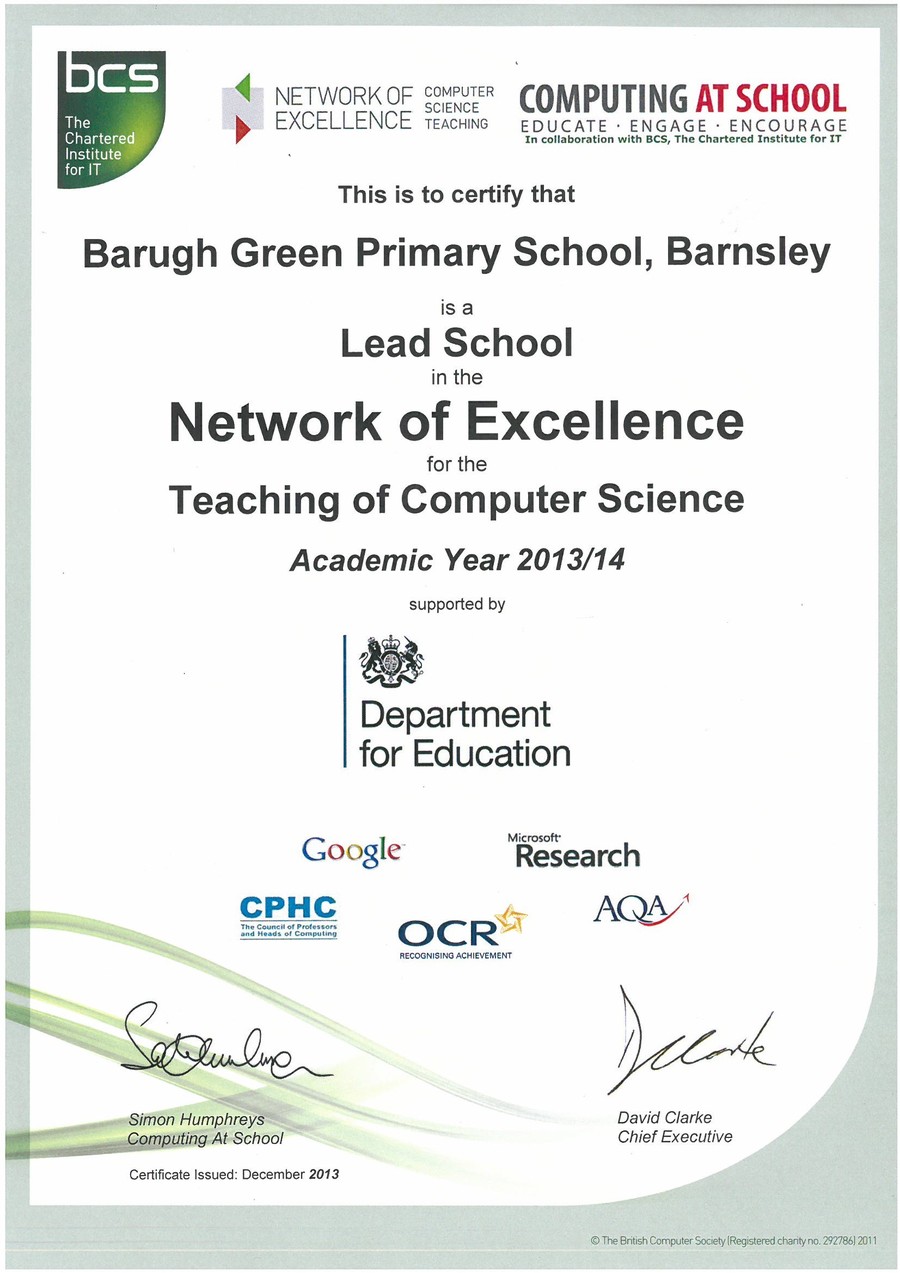 2013 Primary School Performance Tables - Disadvantaged pupils
Golden Mile Roll of Honour
Congratulations to the children below who have achieved the 100 mile distance:
Gracie King
Alfie Taylor